Mac: Bro, pina-format mo ba 'tong PC mo?Butch: Oo bro, lagi nagha-hang eh. Bakit?Mac: Nakow! Yung mga fonts na ininstall natin nawala na...Butch: Ha?! Ganun ba yun?! Hindi ko man lang nagagamit pa! Yung font na gagamitin natin andun pa.Mac: Tsk tsk. Ok lang, download na lang uli natin. =P
Yeah... Yeah... Yeah... One of those days when you thought everything is just doin' fine. Hehehe. No worries, a few steps going to the nearby internet shop didn't hurt. A few clicks, searched a bit and off we go, back to the shop.
I've been dreaming of this day. And it finally arrived. Of course, for every tattoo collector, nothing else would be much sweeter but to see the finished artwork on your skin. It took us a while, not because I chickened out on every session or something but, you know, the Master had to go out of town for several weeks.
All in all, it took us 5 months of waiting. Around 15 hours of total needle work. Whew.
Sa tagal nga eh nakabuo pa ko ng website ni Butch. =)
Now I present to you: my tattoo's timeline... Plus some bonus pics too... =P
This is the actual printed material we used for my tattoo
... May autograph ko pa yan... =P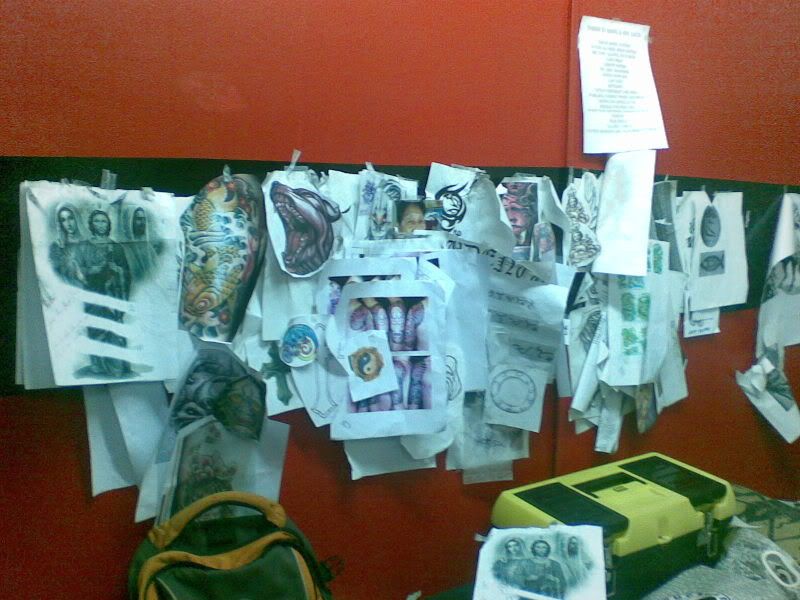 The Hall of Fame...
The Whole Tattoo Experience


You know what? It was just fitting to end the session on that day, Thursday - St. Jude's Weekly Novena.
I don't know man. I just can't describe the feeling. Not just because the tattoo's done, but I kinda felt spiritual in a way. Everyday I've been praying to St. Jude for guidance and assistance and I can assure you, he helped me in one way or another. Sigh... I'm just happy in every aspect that you can think of.
So, I guess the blog about my tattoo ends here. But of course, as what my title says, my faith would never end. =)
Salamat sa lahat ng dumamay sa akin from the time I started with my tattoo. Sa mga sumama sa akin sa shop, sa mga nag-assist sa akin mag-maintain ng tat ko, sa tattoo artist ko at shempre to the Higher Being above, and St. Jude of course.