Weather forecast was chances of rain and can be stormy. The skies were gloomy all day. I wasn't even able to wear my sunglasses the whole day. Rainclouds were building up, you can see them travelling towards the northeast. Finally, after whole day of praying and hoping, the rain went down.
Oh crap.
Why oh why? Why now? Please Mr. Weather, cooperate!
We've been planning this team building activity for a couple of weeks already and then you decided to rain today and possibly ruin our plans? Oh come on!
Yeah, that's the obsessive-compulsive side of me reacting. You can't blame me, I want things to go smoothly. My only worry was my teammates to be like maarte and won't play anymore if it's raining. Haa haa haa. I was so wrong. You know what? The rain stopped when we started the game.
So after our 7am to 4pm shift, we all headed to Pasay's Global Gutz Paintball Field. Divided into 2 groups by way of picking lots, Team Laulau and Team Go Go Go Sago were formed.
After having early KFC dinner along the way (2 cars, our Starex and Erika's Getz - Hyundai models =P) and some extra Gonuts Donuts for snacks, we all changed into our battle gear after a briefing session from Mang Jojo.
We played 2 games of Last Man Standing and 1 Speedball Match. Unfortunately, after so much hype that our Team Go Go Go Sago having the "All Stars" would sweep the "Wannabe All Stars" Team Laulau, we succumbed to defeat by the score of 2-1. The catch there is, 1 on 1 between me and James during the last game to determine the winner... You guys know what happened next. =)
The paintball bullets hurt when it hits you. Duh. Just imagine a round bullet the size of 25cents in diameter travelling 290 feet per second. I have 2 5pesos-sized bruises on my left thigh. Some scratches on my body and a few itchy marks too. But it was a heck of an experience.
Check out the pics people...
Team Partoriza - Don't mess with us...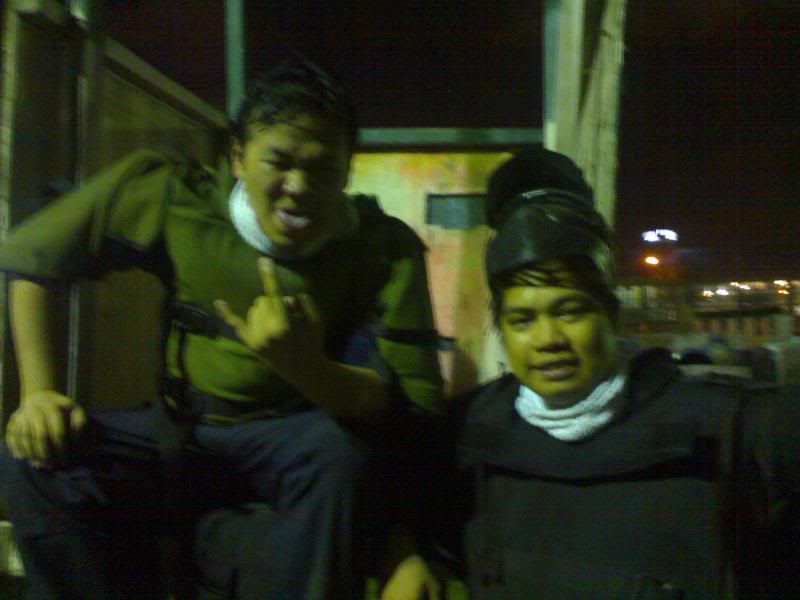 For the first time in almost 2 years, we're not teammates...